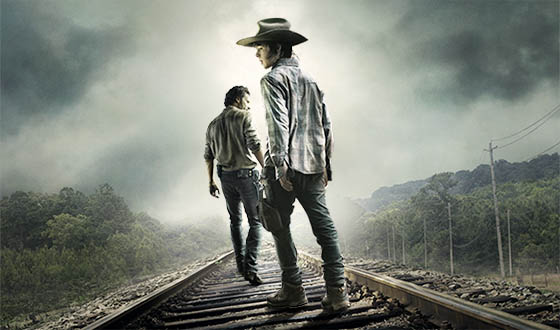 **BUMP!** This offer is available at this low price again, just in time for Christmas!!
Are you a The Walking Dead fan? Amazon Canada has The Walking Dead: Season 4 on DVD available for just $24.99 $14.99 - which is half the price that other Canadian retailers are selling it for and the lowest price I have seen so far. Plus all the other available seasons (yes including Season 5) are available at a steal of a price as well.
I have been completely obsessed with The Walking Dead TV Series for the past couple weeks. I started watching them on Netflix and I got addicted. There are 5 seasons now, but only 4 available to purchase as DVD or Blu-Ray. I purchased season 1-3 last time I blogged about them being on for a great price at Amazon.ca, and naturally I have been keeping my eyes peeled for The Walking Dead Season 4 to add to my collection. The fifth season is not available on DVD or Blu-Ray until August 25th, so the only one I can buy right now is season 4 - which happens to be on sale for a great price at Amazon.ca.
If you need to add The Walking Dead Season 4 to your collection, do it now. Amazon Canada has The Walking Dead: Season 4 (Bilingual) on sale for just $14.99. Amazon has their original price listed as $80, but you will find that is rather inflated. Other Canadian retailers like BestBuy.ca have The Walking Dead Season 4 for $49.99, so essentially you are saving 50% by purchasing this TV series from Amazon Canada.
Amazon.ca offers free shipping on orders over $25, which is pretty much a tease in this situation. You are just one cent away from free shipping. The good news is that you could always add more seasons of this popular TV show to your shopping cart to qualify for free shipping. Take a look at the prices of The Walking Dead seasons 1 through 3 on Amazon.ca:
Plus even The Walking Dead Season 5 is on sale for $23.99!!!
I watch this series on Netflix but I love it so much that I have been buying all of the seasons as well. I can't handle watching The Walking Dead on TV with all of the commercial interruptions. When I want to revisit the earlier episodes at a later date, I will appreciate having them on DVD. Especially if Netflix *gasp* decides to take them off of their list of things available to watch. I am not sure how long this offer will last, but I am assuming stock won't last long at this fantastic price. If you are a true The Walking Dead fan like I am, then you need to snag Season 4 now while you can.
(Expiry: Unknown)