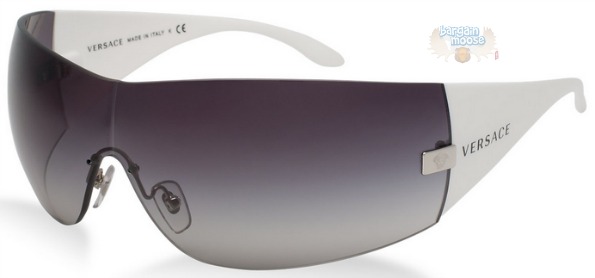 Summer is burning its way into our eyes and skin right now, and what better way to enjoy the rays then to sport a new pair of sunglasses. The Sunglass Hut has a beautiful pair of Versace Sunglasses on sale for just $99.97, originally $294.95.
You are saving $195 on a pair of sexy designer sunglasses. The lenses are a smoky grey on a white/off white frame. The shape is rectangular in a wrap-around design. According to the website, this design is best for round or oval faces. My face is half way between round and heart shaped, which makes me wonder if these glasses would look good on me. They come with a hard case for ultimate protection.
Buying sunglasses at The Sunglass Hut comes with some major benefits. They offer free shipping and returns in Canada. You have 90 days to return your sunglasses, no questions asked, if they just are not working for you. If your sunglasses are damaged within the first year, they offer 50% off a replacement pair, which is awesome. If my sunglasses last more than two years it is a miracle and they are almost always damaged within the first year.
You can also walk into any Sunglass Hut store to get a free cleaning and adjustments on your sunglasses for life. I often see their kiosks in malls, and even full stores sometimes, so this is a nice bonus.
If these Versace sunglasses do not float your boat, I also found an amazing deal on another designer pair. Pick up these Burberry Sunglasses for only $99.99, originally $255. They come in black with grey lenses. While the Versace lenses are rectangular, the Burberry lenses are square with a thick border. They are quite the statement pair of lenses and they would look good on round or oval faces. However, just because they make a face shape recommendation does not mean it will not look good on other faces. You will probably know from experience what looks best on your face. I am just stoked at the great prices on designer glasses that I found. Burberry is one of my favourite designers, but I know square frames and I do not get along.
With free shipping across Canada and 90 days to return your sunglasses (with free returns) this is a no risk situation. Try out a new pair of designer glasses. They do ship from the U.S., so import fees and duties may apply.
(Expiry: Unknown)