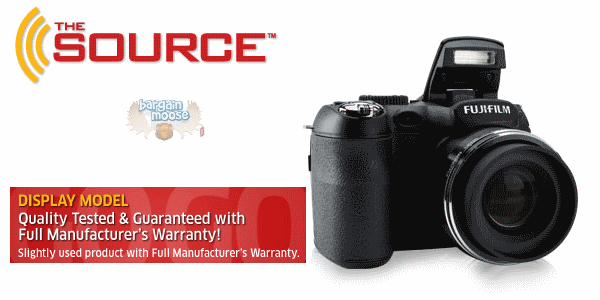 The Source is offering $100 off a Fuji Finepix S1800 camera. Now $149.96 it was originally priced at $249.99.
My old 4MP camera is begging to be replaced and as much as I love my cell phone's picture taking capabilities, it's just not the same as having a dedicated camera in my hands. This little beauty offers so much more:
12.2MP Resolution
18x Optical Zoom and 6.3x Digital Zoom
1280 x 720 Video Resolution
3" LCD Screen
16 Scene Modes
Dual Image Stabilization
This last feature—which prevents blurring by freezing action even at maximum zoom—has me particularly interested since my camera recently ruined several opportune shots of elk lunching next to where my bus was passing by in Jasper. With the Finepix S1800 I would've been able to share some amazing photos with my friends.
Shipping is $4.99 standard, or $14.99 express, with the option for free pickup at a store near you. Use this page to check for local availability.