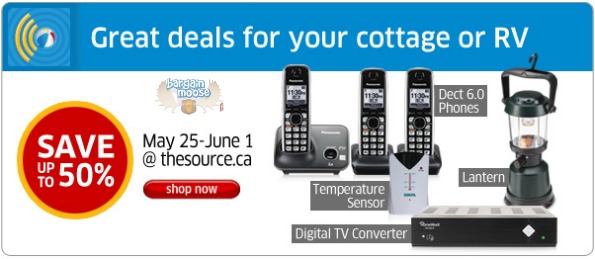 Get your RV or cottage hooked up with all the essentials like a digital TV converter, lanterns, temperature sensors and more for up to 50% off at The Source.
Save 50% off AA INFINICELL ALKALINE BATTERY 12-PACK or aAAA battery pack, both on sale for $6.99 (reg. $13.99).
Keep up on your TV watching with the HOMEWORX DIGITAL TV CONVERTER WITH ANALOG PASS-THROUGH for $49.99 (Reg. $69.99) where you can watch digital programming on your old analog TV.
Select indoor/outdoor speakers are also on sale, for up to 50% off, like theseINSTUDIO CAYMAN WIRELESS INDOOR/OUTDOOR SPEAKERS for $99.99 (reg. $199.99).
Choose to pick up at your local store for free.
Expires: 1st June, 2012