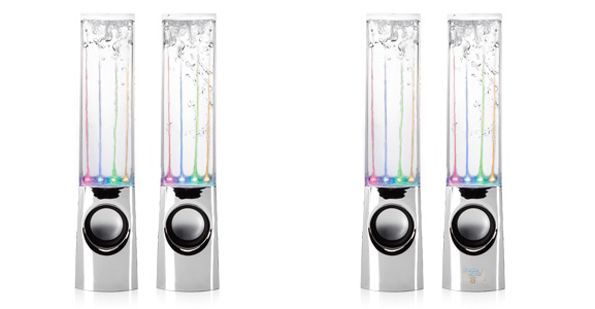 Have you ever wanted to have a pair of speakers that you can stare at for minutes at a time? Well today's deal at The Source is for a pair of unique speakers that may encourage you to look at them for long periods of time, and no one would judge you - after all, they'd also be looking at these cool speakers! You can now buy these Gadgetree Dancing Water MP3 Speakers for only $19.99 (plus $4.99 shipping), which is $30 off the regular price of $49.99! If you spend at least $30 at The Source, you'll also qualify for free shipping.
These Gadgetree Dancing Water MP3 Speakers speakers truly are unique, and whenever I shop at The Source, I find myself staring at these beautiful speakers. Multi-coloured water jets pulse as the beat of the music plays, which ends up sending beautiful fountains of light shooting up these Gadgetree Dancing Water MP3 Speakers. You can plug your iPod, iPad, cell phone, or MP3 player into these water speakers quickly and easily, too! Just click on the link above to learn more about these speakers.
If you've been looking for a gift that your kids would enjoy, then you should consider picking up these Gadgetree Dancing Water MP3 Speakers. Whether they're in elementary school, high school, or college, they will likely be fascinated by these dancing water speakers. They're a great conversational piece, and just look cool. I'm 28, and I would still love to have these speakers! I just might order them after I'm done blogging for my fellow Bargainmoosers!
I can only find these dancing water speakers at The Source in Canada. I've included a brief review of these Gadgetree Dancing Water MP3 Speakers from a satisfied The Source customer below:
I bought these for my daughter and she loves them. They are very loud with cool dancing water pumping to the beats. The colors highlight the ceiling. I want one for myself now.
Check out this deal today before it's gone! Happy hunting, Bargainmoosers!
(Expiry: Unknown)