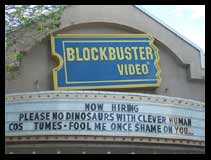 Here's a little deal from thesource.ca! You have to spend $99 or more online to be eligible. If you do so, they'll give you gift certificates for a $15 spend @ your local Blockbusters movie rental store.
It looks like it will be running from now until the 24th of December 2008, perfect for the Christmas traffic. You will be able to spend the gift certificate in store @ Block Buster between the 1st November 2008 to the 31st January 2009.
If you plan on buying a few items from The Source anyway, now would be a good time. The $15 BlockBusters gift certificate has to be spent in one use, so when you get it, pick up a few movies, a bag of popcorn, some candy… a free night of snacks and entertainment!
P.S. When buying from TSCC, I usually go through DealGuild for a 2.6% rebate. It's a few dollars saving.
Thanks for the pic velouria.