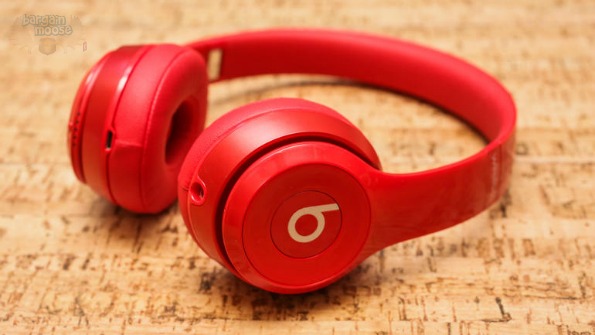 The Source Canada had discounted the ever-popular Beats by Dr. Dre Solo 2 wireless Bluetooth headphones from $329.99 down to $279.99. As the headphones cost over $25, they will ship for free.
Only the red Beats Solo 2.0 is on sale. I price compared with other popular retailers. I could not find them on sale elsewhere. Here is what they are selling for at other places:
$329.95 @ Apple Canada
$329.99 @ Best Buy Canada (OOS)
$329.99 @ Future Shop Canada (OOS)
It is very important to know the difference between these and the other (cheaper) Beats Solo 2.0 headphones. The 'other' Beats Solo 2.0 headphones that retail for about $100 less are wired headphones. These Beats are wireless with Bluetooth compatibility so you can hook them up, without wires, to your smart phone, iPhone, MP3 player, and more.
These headphones offer around 30 feet of wireless freedom - give or take a concrete wall or two. That means you can put your phone down in the living room and still make a trip to the bathroom with your headset on. I am not sure who does that, besides me. I really like wireless headphones for travel. It can be a royal pain to untangle the cord of my headset or fish it out from underneath and behind things.
For travel, the wireless Beats Solo 2.0 is perfect. The headset is compact - folding down for travel or storage. The ear cups are padded for both comfort, and to cut out external noise from interfering with your musical experience. While I have not been impressed with the sound from Beats before (many years ago), it sounds like they have gotten better. One reviewer said:
I could not believe the difference from the other headphones I was using..you can hear so clear it is unreal recommend to anyone
This headset comes with a cord so you can still listen to your music when the battery runs out. Enjoy the icon Beats by Dr Dre styling and the gorgeous hot red colour. This headset demands to be noticed!
If you own this headset, then we would love to hear from you! I always like hearing feedback from our Moosers on what they think of their electronics and more. This information is really helpful for other Moosers!
(Expiry: Unknown)