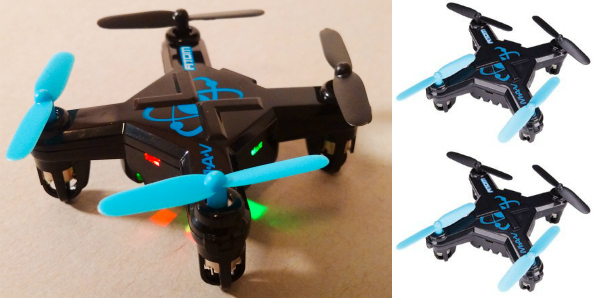 The Source Canada has a one day deal on this mini quadcopter. With quadcopters being so popular these days, I thought this would make a great Christmasgift. The MAV Atom Quadcopter Drone is currently on sale from $59.99 down to $29.99 with free shipping from The Source Canada. This is a one day deal only.
This is a cool little rig - the acronym MAV stands for 'micro air vehicle' and this little flying device is compact. This unit is recommended for indoor use only. However, there are many super cool features packed into this tiny flying rig. First of all, it has an internal rechargeable battery that can be charged via the included USB charging cable. You will need a few batteries though - 3 'AA' batteries - for the remote control part of this unit as it is not rechargeable.
The quadcopter has four spinning propellers and Gyro for stability in flight. There are trim controls as well as normal and pro flight adjustments. I recommend starting on normal as many people have difficulty getting the hang of flying a quadcopter without major drift. Because of the technicalities of flying this unit, it is recommended for ages 12 and up.
There are some additional cool features. This MAV Atom Remote Control Quadcopter has a four channel flight control at 2.4GHz, which allows you and your friends to fly multiple aircrafts in the same flight space without interfering with each other.
I found an extensive review of this unit at Blue Fish Toys. Among the positive features that they listed, they said:
If there was a universal measurement for rating Flying Quality Per Size, this would rank very high. We were impressed by how stable and how easy to control this little drone was (once the trim was set). The controller was easy to hold and use. It did not take us long to master flying the Atom around the house, even in a room full of furniture and a dog or two.
I think that is a fairly positive review. Check out the rest of their testing via the link above.
I tried price comparing this mini quadcopter - but it just wasn't available anywhere else. I checked out quadcopters on Amazon Canada and the lowest prices I could find were around this price for pretty much unknown brands. I did happen to find this exact model on eBay Canada where it is currently retailing for $47.99. I also checked with a toy review website where they list the original price around $59 so I know the original price on this is legitimate.
While checking out this quadcopter, I noticed a great deal on a RC Helicopter that I wanted to mention too. This Triumph 3-channel Indoor & Outdoor R/c Helicopter was $79.99 and is now $29.99. The same unit is currently $36 + $6.50 shipping in the Amazon Marketplace.
(Expiry: 15th December 2015)