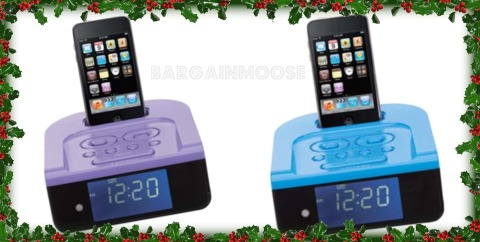 The Source is offering a very nice promo price on these Centrinos iPod/iPhone Clock Radios. Right now they are only $49.99 ($20 off), after December 24th they will go up to $69.99. You have 4 colours to choose from, blue purple, pink or white. They have radio, support dual alarm clocks, and have a battery back-up. When your iPod is docked, it will charge at the same time!
They are fairly new, so the only review on The Source was a lady saying she had bought the purple one for her granddaughter for Christmas, and was sure she would love it. But she couldn't comment much more as it was wrapped under the Christmas Tree!
I really miss having a iPod clock radio (since mine went bye bye). They are really useful for just sticking your iPod in to charge each night.
Free 3-5 day in-store pickup.