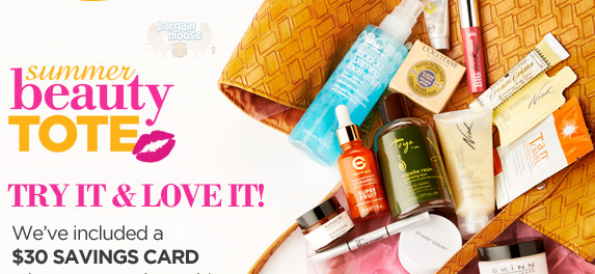 The Shopping Channel has just launched their amazing July Beauty Tote loaded with personal care products and cosmetics. This tote is being sold for $29.99 + $10.97 shipping and the contents, if past summer sets are any clue, are often valued between $150 - $300.
This bag has a few extra tricks up its sleeve. With your purchase of the tote, you will also receive a savings card for $30.00 off the purchase of any full-size product from inside the Summer Beauty Bag. The savings card expires at the end of summer (31st August 2014), so you must place your order by then.
You also have a one in five chance of receiving a surprise item in your tote from L'Occitane, Lisa Hoffman, MicroPedi, or Silk'n. Those odds are very good considering the odds of most contests.
Now, what do you get for $30? Here is a list of the contents:
Beauty Bag Tote
Copaiba Resin Volumizing Elixir (2oz)
Elizabeth Grant Vitamin C Superfruits Concentrate (30ml)
Skinn Cosmetics 24HR Wrinkle Repair Balm (1oz)
Bliss Fabulous Foaming Face Wash (6.7oz)
Deluxe Sample Products from Nick Chavez, Perricone, IT Cosmetics, Sheer Cover, Royal Apothic, L'Occitane, Tan Towel, Juice Beauty and Pur Minerals.
Did you know that the Bliss Face wash alone costs $29? Add on any of the other stuff and you are already getting into bonus material here.
I have always maintained that these beauty bag totes make fantastic gift ideas for almost any women as they provide her with a sample of cosmetics. They are great to put in the "gift basket" for those times you are going to a party and realize you do not have a gift for the host. This beauty tote is also a wonderful way to acquaint yourself with new products or to try out new brands at a low cost. When searching for the perfect beauty solution, it can be a hard road, but deluxe samples compiled in a box like this can make it far easier. The extra $30 savings card works well for when you find a product that works; you again get to save on your purchase.
With the added $30 savings card, I am not sure how long these beauty totes are going to last before they sell out. These deals seem to be the most popular from The Shopping Channel Canada. Pick your tote up before they are gone.
(Expiry: unknown)