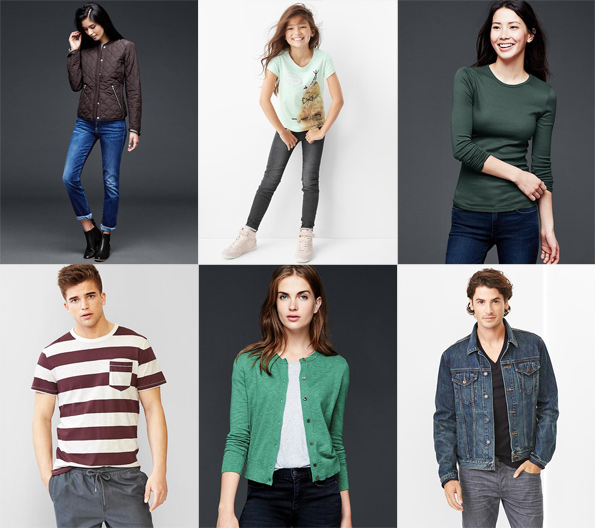 *** Update: When I wrote this, it was a 35% coupon - now it's a 40% coupon code for TODAY! HOTTER! I'm not going to update each individual price below, just be aware that they're even chepaer than I have stated. :) ***
OOOh it's getting colder! And the stores are following the weather patterns with lots of lovely fall sales. That's what's happening online at The Gap Canada right now – they are having a fall farewell sale stating that there is up to 75% off select items on site. But I actually found some items in the sale at 80% discount! And what's even more amazing is the fact that there's a coupon code for TODAY ONLY which gets you an extra 35% discount extra 40% discount on ANYTHING on site!!
Click here to shop the fall sale @ The Gap Canada now
Coupon Code: GAPNOW
Discount: 40% off
Expires: 1st November 2015
Coupon Code: GAPSPOOKY
Discount: 35% off site-wide
Expires: 31st October 2015
There are some superb items that you can buy in this sale, and the deals and discounts just work out really great. Let's take a look at this gorgeous ladies quilted zip jacket for example. This item was originally priced at $108, and it's $54.99 in the sale. With the coupon code, it comes to only $35.74 and that actually qualifies for free shipping because the price on site is over the $50 shipping threshold! Here's a screenshot of that one in the shopping cart:
What a fantastic price for a cute little jacket!
I'll list a few more items that catch my eye in this sale from The Gap Canada:
Womens
Mens
Kids
Toddlers
As you can see, I've only chosen a couple of items from each section here. There is TONS more clothing on offer – jump in and have a browse! There are truly some HOT prices in here!
Note on shipping: As I mentioned above, The Gap offers free shipping online orders of $50 or more. However, this threshold is PRE-coupon. If an item is showing a $50 price on site and you apply a coupon code, it will still get free shipping – even though the coupon brings the item below $50! This technically means that for today only, shipping is free on a $30 spend!