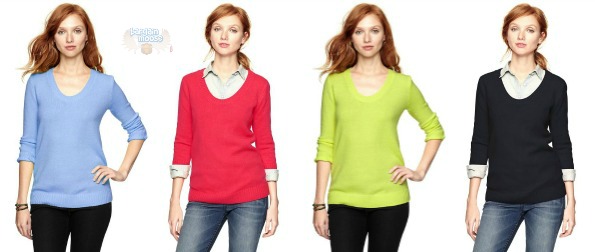 The Gap Canada has a great sale on right now, and I noticed this pullover sweater on sale from $49.95 down to $16.99 and $17.99 depending on your colour choice.
I certainly thought this was a worthwhile deal as you are saving $32 - $33 per shirt! That is fairly nice.
The true indigo and the diva pink sweaters are priced at just $16.99. The marina blue and the neon sugar cane kiwi are each $17.99.
Now, if you get these shirts TODAY (Sunday) you can get an extra 25% off those prices with the coupon code GAPCSPREE. That means you will only pay $12.74 and $13.49 respectively.
How is that for a cheap, but quality, pullover sweater? At that price you might as well get a few... or even one of each colour for some variety in the ol' wardrobe. They are available in sizes XS through XL and almost all sizes are still available.
Get free shipping on orders of $50 or more.
(Expiry: Unknown)