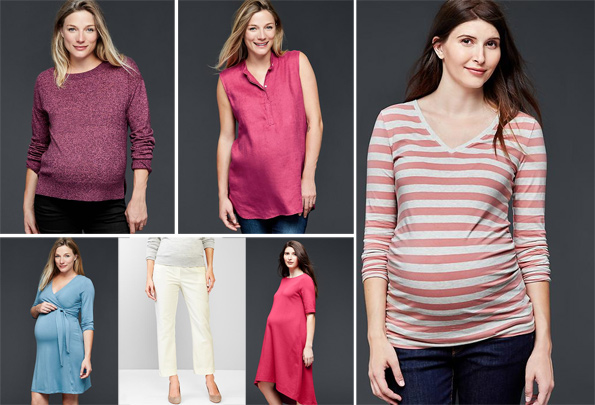 Are you expecting a new baby or do you know anyone who is? Over at The Gap, there's a sale on maternity wear with some super-low prices on many of the pieces there – I've seen pieces discounted by as much as 76%. Plus what's even better is that there are coupon codes which are valid for the rest of today – giving an extra 35% to 40% discount off the top of the sale prices! Yay! Tell your friends!!
Click here to shop the sale maternity wear @ The Gap now
Coupon Code: CABEST
Discount: 40% off
Expires: 9th November 2015
Sale Maternity Wear from $7.19!
Here are the overall deals from each sale section to show you the starting prices:
There are some lovely pieces in there which I wish that I'd had when I was pregnant. The likes of this Three-quarter sleeve wrap dress which was $54.95 but which would be only $20.99 after the coupon – this is such a versatile dress and can be worn anywhere.
Free Shipping on $30!
The Gap coupon code above is for the rest of today only, but what is fantastic about this is that it technically reduces the free shipping threshold! The Gap offers free shipping on $50 but that figure is PRE-coupon. This means that you only have to spend $30 or more and you will get free shipping to your home! This is a superb idea.
Free Returns!
One thing that is totally fab about The Gap is the FREE returns. You can order as many items online as you wish, and if they don't fit well – just return them for free!
UPDATE - thanks Sam for the 40% coupon!)