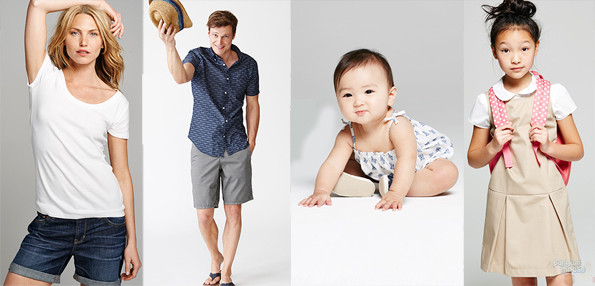 We frequently see coupon codes from The Gap brands (that includes Old Navy and Banana Republic) but one of the highest we usually see from The Gap is around 40%. And that's what they've released today – a coupon code for 40% discount on almost anything from their online store. Here are the details.
Click here to use The Gap coupon code online now
CouponCode: BIGTIMEC
Discount: 40% off
Expires: 29th July 2014
There are a few exclusions: Kid's Uniforms, First Favorites, Junk Food and Umbro.
There are, of course, tons of great items in the sale section at The Gap with which you can pair this coupon code to make even sweeter deals. There is already up to 75% off select items in there! Let me try and find you a few bargains (these prices are with the coupon code applied):
Men
Women
Kids
Baby
In the sale section, sizing can sometimes be quite limited so you might have to browse around a bit to find the best bargains in your size.
Canadian Shipping!
On The Gap's site, you must spend $50 or more to get free shipping, which is really easy to do. Remember, they've even got a shared shopping cart with Old Navy and Banana Republic – you can always pop some small items from there into your cart if you are trying to achieve that minimum spend. But, as items from The Gap tend to be a little pricier than the sister sites, I don't think you'd have any trouble achieving the $50 minimum threshold.
We've got this Gap coupon code in our coupon section, always stop by before you buy anything online to see if there's a coupon code for an additional saving.