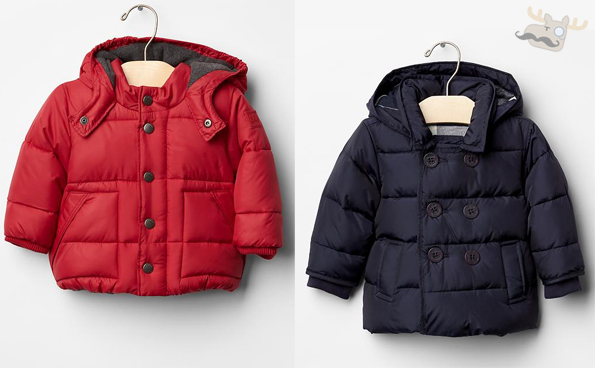 When I am hunting for presents for babies or friends' kids, one place that I always take a look at is The Gap. They have such good quality and stylish clothing, and the recipient knows that you've gone out of your way to buy a great and high quality gift for them. I was looking on their site this morning, as there are a couple of coupon codes available, for 35% to 40% discount. I spotted some really cute little boys' jackets which you can get for a total of a 52% discount, with free shipping too!
To get the above jackets for only $33.60 each, you must add The gap coupon codeGAPLOVE, which gives an extra 40% off and it expires tomorrow on the 4th October. The GAPLOVE coupon code states that it is 40% off regular priced styles, but it even seemed to apply to this coat which is already discounted. The jackets were originally $70, they're down to $56, then the coupon code brings them down to only $33.60 as you can see in this screenshot of my cart:

And because the sale prices of the jackets is over $50, it means you get free shipping too!
The above jackets are available in the four sizes up to aged two: 0-6M, 6-12M, 12-18M, 18-24M.
There are a number of comments in the reviews from various moms who state that these are adorable little coats, and really warm and weather resistant. One mom was saying that the correct age for her son fitted perfectly, whereas another mother with a larger kid said they needed the next size up. Make sure to take that into consideration. One mom even said that she loved the coat so much, she bought the next size up as well, just to have!
(Expires: 4th October 2015)