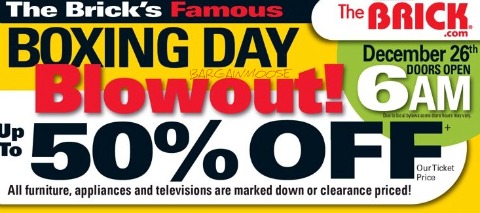 Not only did The Brick just wet our appetite with their Christmas Sale, but they are also having their famous Boxing Day Blowout sale!
They have plenty of good offers for Boxing Day, if you missed their Christmas Sale.
What has me the most excited is this 40" Sony Bravia 1080p HD TV for $498.00. My husband's birthday is January 2nd, and our little 19" TV is just not suitable for his viewing pleasure. I really want to get this for him.
They also have 50% off all Serta Perfect Sleeper Mattress sets, which is a beautiful discount if you need a new mattress. Speaking of mattresses, or beds, this Dark Walnut Faux Leather Bed is only $199.97. I have dreamed of having a real bed frame ever since I was a kid! I know, what a silly thing to dream about.
On top of it, this gorgeous Ostra Faux Brown Leather Sofa, usually $599.97 is only $299.97, $200 off!
UPDATE: I found out not all these deals are online, after getting up at 5:55 am to shop their online store for my husband's birthday HDTV. However, you can phone this number: 1-877-843-2742 to order any in store deals.