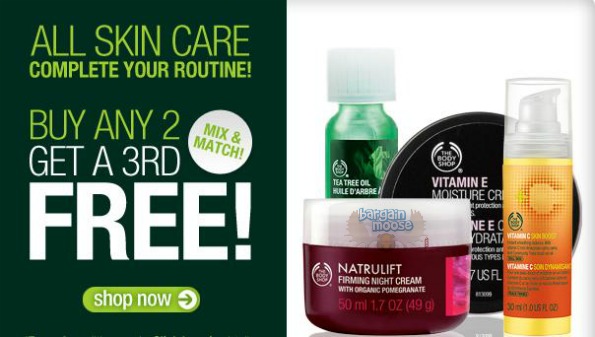 The Body Shop Canada has some great deals on their skin care products again.  They have 2 deals to choose from or you can do both of them if you like.  All skin line care products are buy 2 get 1 free or you can do the 3 for $30 body care kit deal (a $44 value).  Both deals are a limited time only.
The first deal that you can take advantage of is the 3 for $30 deal.  Choose any body butter, body scrub and shower gel all for just $30 (regular value is $44). My personal favorite is the new line of Chocolate line of items that came out around Valentine's Day.  I tried them out and absolutely love the smell of them. The Satsuma line is also a really great choice that I would recommend trying out.
For the second deal, they have their skin care items on for buy 2 get 1 free.  They have 6 different skin care line to choose from.  You can get any 2 skin care products form any of these lines to get the 3rd for free.  You can also mix and match the different 6 skin care lines. For example, maybe you want something from the tea tree line to banish blemishes and then you pick something from the Vitamin E line to reduce the look of fine lines.  Since you already bought 2items, your next will be free.  Like all other deals, the lowest priced item will always be free.
(Expiry: Both deals are on for a limited time only)