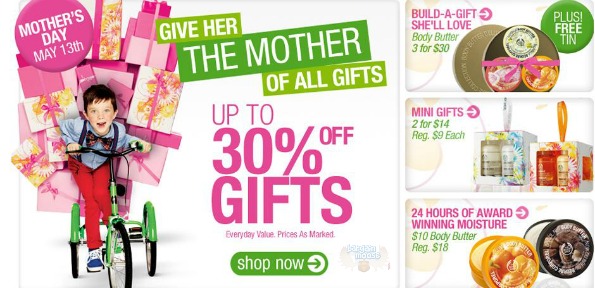 If you are still looking for a Mother's day gift, The Body Shop Canada has some awesome deals on right now.  They have gifts on sale for 30% off, body butters are 3 for $30, plus a free tin and more deals.
As I started looking through getting deal ideas for my mom, I noticed myself putting items into my cart for myself!  My favorite product from The Body Shop is their body butter. For a limited time only, you can get any 3 of the 200ml size body butters for just $30.  You will also get a free gift tin with them as well.  These body butters are regularly prices at $18 each so the regular price (without the tin) would be $54.  At just $30 you save a total of $24!
Along with the body butter deal they also have gift sets up to 30% off the regular prices.  They also have a deal on their gift cubes $9 for 1, $14 for 2, $18 for 3 or $20 for 4.  Even though this deal say $9 for one I did find a Strawberry gift cube on sale for just $5.
Lastly, The Body Shop has their buy 2 get 1 free and buy 1 get 1 50% off deal on. There is some fine print and exclusions for this though.
This offer excludes the Body Butter (part of 3 for $30 Gift Tin and $10 Satuma and Brazil Nut Body Butter offers),Lip Butters, Balms & Sticks (part of 3 for $12 offer), mini Butters & Scrubs (part of 2 for $10 offer), pre-packaged gifts, mini Shower Gels, Lotions and Shampoos (part of 3 for $10 offer),gift cards, gift cards, LOVE YOUR BODY™ membership cards, and charitable items.
With all of these great offers available at The Body Shop Canada, there is no doubt that you can find a great present for mom and a great deal for yourself!
(Expiry: 13th May for some and limited time offer for others)