The Body Shop has already released their Black Friday Deals! Mix and match 3 for $33, 4 for $44 or 5 for $55 from a large array of products! When you spend $30, you can then buy the 2015 Black Friday Tote for just $30 - it has a $100 value! On top of all this, there is a page full of $5 Daily Deals you can use to top of off your cart and there are free samples as well.
Shipping is free on $75, $5 on $50 or more, or $7.95 for orders under $50. Given that tier, I would aim for the $75 range as it really isn't hard to reach! First of all, I would mix and match four products for $44. I picked out the Jumbo Body Wash because it gives you such a high volume of product for such an amazing price. Each bottle was originally $25, and they come down to just $11 each in my cart. I like really high savings so that is $100 worth of product for $44. I chose the:
My cart now totals $44, and I am trying to reach that $75 range for free shipping. Next, I add on the 2015 Black Friday Tote for $30 valued at $100. The tote includes:
Mango Lip Butter
Strawberry Shower Gel
Shea Body Butter
Coconut Soap
Satsuma Body Polish
Satsuma Hand Cream
Mini Vitamin E Moisture Cream
Mini Camomile Eye Makeup Remover
Cream Bath Lily
Feel So Good Tote Bag
$5 coupon
FREE Samples
You get six full-size products, two mini products, a bath lily, tote bag, $5 coupon, and free samples as well. This is a pretty sweet amount of stuff for just $30.
Lastly, I decide to throw in a $5 body mist to just top up my cart. The body mists are the Daily $5 Dealtoday. Originally $13, this Moringa Body Mist is now on sale for $5.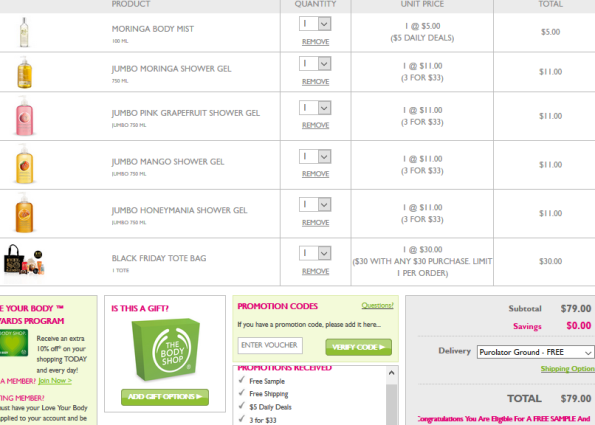 This is my cart. As you can see, there is $213 worth of product in my cart and I will just pay $79 for it all. I also receive free shipping and a free sample with order as it is just over that $75 threshold. I am pretty pleased with this combination of deals because I am getting SO MUCH STUFF for so little!
Daily deals are subject to change depending on the day! Some products are excluded so look for the $3 for $33 promo tag in pink under each product.
(Expiry: unknown)