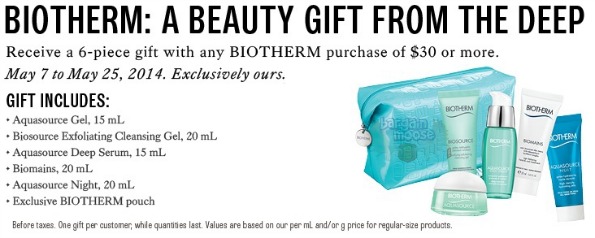 The Bay Canada has a great beauty offer on right now that will get you a free gift with your purchase.  Get a free six piece gift with your purchase of $30 or more in Biotherm products.
It doesn't actually say how much the free gift is worth, but there are six different items included in it, so it is a great freebie to get.  You can choose to get this deal both online or in stores and it will be the same.
Here is what you will get with this free gift:
Aquasource gel 15ml
Biosource exfoliating cleansing gel 20ml
Aquasource deep serum 15ml
Biomains 20ml
Aquasource night 20ml
Exclusive Biotherm pouch
There is a limit of one free gift per person while supplies last. You can buy any Biotherm products you would like as long as the total is $30 or more.
This is the perfect free gift to either keep for yourself, or save it and give it to a friend or family member for a special occasion. I will be honest and say that the only time I will buy some of my beauty products is when the store is also offering a free gift with purchase like this one.
As for the cost of shipping, you will get free shipping on orders of $99 or on orders of $45 with your HBC Credit Card.
(Expiry: 25th May 2014)