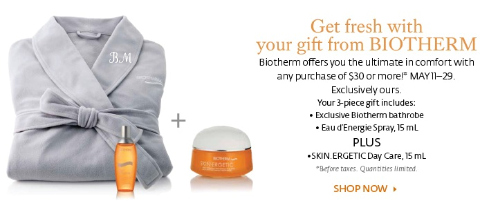 I saw this promotion at The Bay yesterday, and wanted to share it with my Moosers! When you spend $30 or more on Biotherm products either online or in store you will receive a very nice little 3-peice gift set. It includes:
Biotherm Bathrobe
Eau d'Energie Spray (15ml)
SKIN.ERGETIC Day Care (15 ml)
A nice little set, and the Bathrobe looks so cozy!
I always thought that Biotherm was for men, but it actually has products for women as well. Products start at $20 each. If you wanted to keep it simple you could just get one of the many exactly $30 products like this Biopur Pore Reducer Gel Cleanser.
However, if you are shopping online The Bay does offer free shipping on orders of $49 or more, so you might want to top up just to that. :-) Enjoy the free bathrobe and products!
Expires: 19th, May 2011