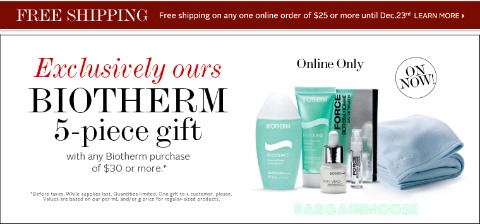 The Bay is offering free shipping on on any purchase of $25 or more until December 23, 2010. So check out their online store! Also, If you buy $35 worth of Biotherm products you will receive a free 5 piece gift set! Of course this also means you qualify for free shipping. Sounds lovely!
I checked out prices, their cheapest products are $20, so you could get 2 different $20 products... say the Shaving Mousse and the Aquasource Biosens Sos Correctand only spend $40 to get your lovely free 5 piece gift set. Or, you could hit the minimum on the button with either the:
Each of which cost only $35, so you still qualify for your free gift set.