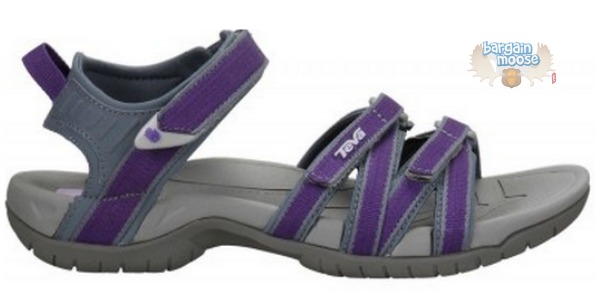 I love the purple on the Teva women's Tirra sandal. These shoes were $99 but are now only $50 @ Live Out There Canada. This order comes with free shipping with no minimum.
The past few mornings when I head outside, I have been greeted by the sound of birds. These are real birds that twitter and sing. These birds are not penguins. The ice is melting, the roads are giant puddles and I am thrilled to see spring. Yesterday I managed to go out to the car and grab a forgotten item with only a hoodie on. Three degrees feels wonderful after this cold winter we have had.
If you have not started putting together your spring and summer shoes, I have a great deal for you to grab today. These strappy athletic sandals come in purple and are available in the following sizes:
These sandals are meant to get wet and are designed to wick water away from your feet. The webbing and straps are designed to dry quick. Like many Teva sandals, these have a solid foot bed with extra grip to keep you stable on wet surfaces. These are perfect for water sports such as kayaking where your feet may get splashed a little. I love to wear my Teva sandals to the park, hiking and anytime we are at a festival or exploring. They provide lots of foot support for long adventures.
Shoeme.ca has this same pair of Teva sandals for $100. The Last Hunt has a few Teva sandals in this style but in other various colours for only $52.99. The few The Last Hunt has left are all a size five. MEC has a black and grey version with purple accents for $89.99. Cabela's Canada has the same style sandals in a black and grey with purple accents for $99.99. These are a much better deal at Live Out There.
These sandals have ten happy reviewers who all rated them four or five stars. All of the reviews are really long, these people really like these sandals. Here is one of the happy reviewers.
The footbed on these are so comfortable - even more comfortable than some sneakers I own. They have a springy gel feel to them.  The straps on top are thin enough to be a little bit feminine, which is a nice touch. These are really great for kayaking (my reason for purchase), the beach, or walking around town or the campground!
This is a great deal on these sandals. I missed the last deal I blogged about for Teva, but I love the purple. I may grab these now to replace my older pair. My blue Tevas have served me well for multiple summers, but with free shipping and a great price it is time to upgrade.
(Expiry: Unknown)