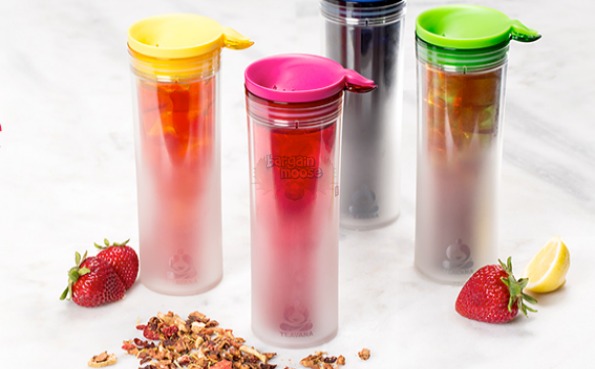 Teavana has a great new sale happening starting today that could save you a bundle on your purchases.  Save up to 75% on items in the summer sale for a limited time only.
With this summer end of season sale, you will find that most items are 30% off to 50% off the regular prices.  They do however have a featured item on sale that is 75% off right now, and they have lots in stock so far. The featured item for this sale is the Tropical nut paradise rooibos tea that is now just $1.95. As for the flavour, it has sweet pineapple notes with a creamy coconut and nutty body, as well as papaya, forming the perfect rooibos island escape.
I would like to get an infuser tumbler for my daily tea on the go.  I found this green essential infuser tumbler on sale for 30% off the regular price bringing the total down to just $13.97.
It is also good to think ahead for ideas for birthdays.  My mom could live on tea and is always asking for a Teavana gift card.  Instead of a gift card, I can grab a few of her favouite teas or pick out a great tea accessory.  I know she would love these hibiscus tea tins that are 50% off right now making them just $5.48. She would love the pop of colour it would bring to her kitchen and she can store all of her favourite Teavana teas in them!
As a nice little bonus, you will get a free sample with every single order with absolutely no minimum charge necessary. Currently, the free sample is of the Blueberry Kona Pop Tea Blend. Each sample is 1oz in size and is for a 16oz cup of tea.  This is a great way to try out new products without having to pay for them. I can't wait to try this Blueberry tea!
All prices are in USD and they do ship from the U.S, but you will still get the free shipping in Canada when you spend just $50 or more on anything.
(Expiry: 10th August 2014)