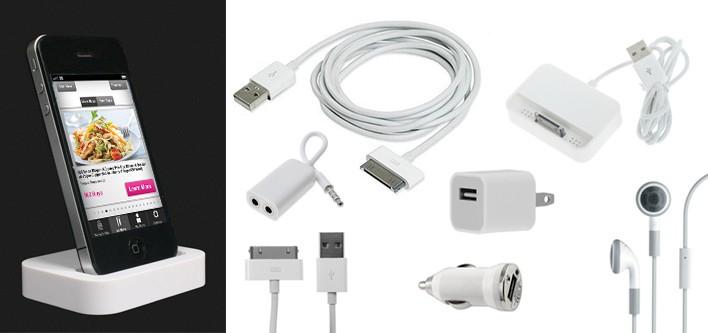 Teambuy.ca is offering an iPhone/iPad accessory kit valued at $70 for just $19 tax included. You can buy up to a maximum of 5 and product will ship when offer expires.
No refunds, all sales are final. Sale ends on June 24th. Only available in white. Included in set:
dock connecter to USB 2.2
3.5 mm audio splitter
stereo hands-free headset with mic
USB wall charger
car charger
3M USB cable
iPhone docking station
car charger and AC plug (works on iPhone only)
All accessories are compatible with both iPad and iPhone except the car charger and AC plug, which works with iPhone only.
I stumbled upon this deal while actually looking for an iPad/or iPhone; the entire 7 piece accessory kit for just $19. I searched some other stores such as Best Buy and I could not find a deal like this. Some of the chargers were around $20, but that is only one item.
The lowest priced hands-free headset with mic that I could find was Best Buy for $14.99 or $12.99 for the audio splitter.
If you have an iPad or iPhone, or plan on getting one, I would definitely think about this deal. You can check online yourself and find that these items combined would cost at least $70 to $100 anywhere else.
Shipping: $3, items shipped to you directly – in approx 2 to 3 weeks after offer expires.
(Expiry: 24th June 2012)