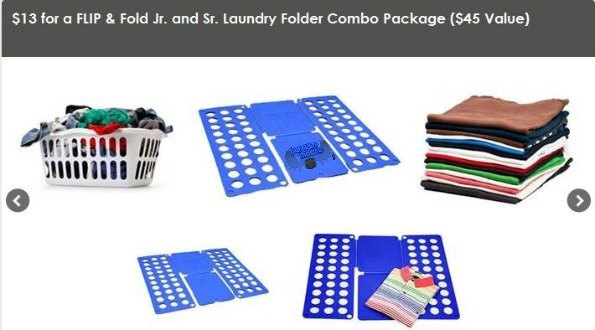 Team Buy Canada has a great deal on for anyone that hates to fold laundry and wants to make it more fun.  Pay just $13 for a flip and fold Jr. & Sr. laundry folder combo pack (valued at $45).
The link for this deal is for St Johns but you can get it from any province you are in.  I actually have some personal experience with this awesome items because I was a teacher for children with Autism for over 7 years.  We used these in the classroom to help teach the kids life skills such as folding the laundry.  They are easy to use and a great teaching tool for kids learning how to fold.  Even for the person that folds laundry everyday, this items makes it easier and more fun and your clothes are folded just a good as you would see on display at a store.
Here are some details for this deal:
Unlimited per person. Unlimited as gifts. Tax and shipping ($7) not included.
Voucher expires March 10, 2013
VisitJAVEQ.comand add the item to your cart.
Includes a combo pack: 1 FLIP & Fold Jr. and 1 Sr. Laundry Folder.
I have always wanted to get these for myself to use at home ever since using them in the classroom but they always seemed a little expensive.  At just $13 for the set instead of the regular price of $45, I might just have to pick up a couple!
(Expiry: 13th May 2012)