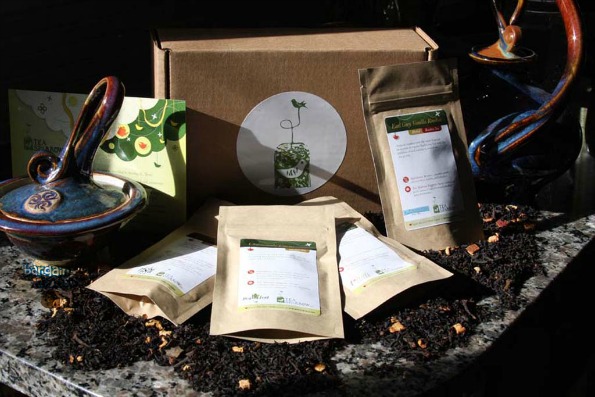 Tea Sparrow is a Tea subscription company where every month you receive tea delievered to you for a $20 monthly free. Try out this subscription service for only $8 for your first month (save $12) by clicking on the following link and entering the code teas.
The steps are simple:
Click on link above
Enter code "teas"
Click subscribe (it says 60% off below)
Pay with Paypal
Enjoy!
If you do not want more than one tea box, make sure to unsubscribe before your next billing cycle when you would be billed the full $20 per month with free shipping across Canada. I just signed up for my $8 tea box because I drink a lot of tea and who can resist some awesome surprise teas for only $8?
What do you get:
The $20 per month regular fee includes all taxes and shipping. Per month you will receive a combination of four premium loose leaf teas. In total, you can expect to receive 35 to 40 cups worth of tea. Thus, your subscription works out to around 50 cents a cup of tea (taxes and shipping included). Every tea box includes a selection of both herbal and caffeinated blends. What teas you get will be a surprise, and that is the fun of it!
Why this is totally awesome:
I get in a tea rut. Frankly, it is hard to get out there to meet new teas. I have my favourites and I tend to buy them over and over again. Sometimes I will try something new, but usually I stick with what is tried and true. Tea Sparrow is like my own little tea dating service. It gives me four possible tea contenders to try out per month. As each sample is only enough for about 10 cups, it is like speed dating and not a committed relationship. I get to taste a bunch of teas I might have been too shy to try, without the commitment of an entire box or can.
How to end your subscription:
Pausing and restarting (maybe later) your subscription is easy. You can do so at any time by notifying Tea Sparrow before the first of the month you do not want to be billed for. If I do not want September's box, then I have until August 31st to notify Tea Sparrow. Check out the details here.
I really hope some of our readers try this!
(Expiry: Unknown)