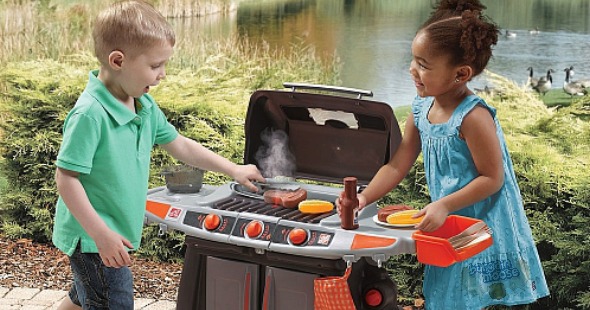 Toys R Us Canada currently has their 1/2 Price Event on. Until the 28th of May, you can save up to 50% off select popular toys for inside and outside. Save on dolls, action figures, play sets, play houses, bikes, and more.
Warm weather has finally arrived. I don't know about you guys, but my kiddo basically lives outdoors on nice days. We have a little slide and some kids' lawn chairs out back, but I have been hunting for more toys for out there. Until the 28th of May, you can save up to 50% off select toys - and yes, this even includes outdoor toys. In fact, you can even save up to $450 on all Wooden Play Structures, but this particular offer ends on the 25th. This sale is not limited to outdoor toys, so have a browse. Here is a quick look at the other items includes in this 1/2 Price Event at Toys R Us Canada:
1/2 price on Bikes, Trikes, & Scooters
1/2 price on Action Figures & Playsets
1/2 price on Infant Toys and Dolls
1/2 price on Games & Crafts
Does Dad love to barbeque? Now your little ones can safely join in on the fun. The Step 2 - The Home Depot Sizzle and Smoke Barbeque Grill is on sale from $99.99 down to just $49.97. This is a great price on this adorable play set. There are burner knobs, built in wheels, and 15 different accessories included. The removable tray will even allow you to store the toy plates and utensils that are included.
All little boys go through a car phase. My two year old is going through that phase right now. For hours he will drive his little Hot Wheels toys on his car mat. If you are looking for a playmat for your kids, check out the Fast Lane Street Linx Playmat with Cars. This mat was originally $22.99 but is on sale for $11.47. It even includes 4 different die-cast vehicles. The mat is about 31.5 inches by 31.5 inches.
Do your little girls love to play house? The Step 2 - Neat & Tidy 2 Cottage was $229.99, but is on sale for $114.97. I actually might grab this adorable cottage myself. My son loves playing with these type of toys, so it is definitely unisex. I love the open design of this play house. You will be able to see what your kiddo is up to at all times. It even has realistic stone and wood finishings. The interior includes kitchen seat, fireplace, wall clock, play phone, shelves, kitchen table and a sink faucet.
While ToysRUs.ca has some wonky shipping discounts, you could always shop in stores. ToysRUs.ca will give you a $10 discount on shipping when you spend $25 or more. Sometimes that will result in free shipping, and sometimes it won't.
(Expiry: 28th May 2015)