Taco Del Mar restaurants are doing a special promo to celebrate their recent mention as one of the country's most kid-friendly restaurants. They are offering free kids meals after 5.30pm, through the whole month of July 2009!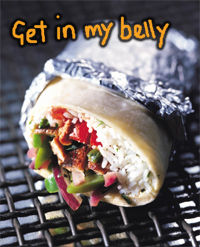 The deal sounds pretty good, it applies to kids under 12 years old. They get a free meal with an adult meal purchase. If you're looking for a cheap night out for you and the family, this could be perfect!
I've never had a fajita burrito from Taco Del Mar, but I've had them from other restaurants. There's a local that sells one, and I get it filled with rice, juicy chicken, salsa, sour cream, red and green peppers. It's so huge, it's about the size of your head.
Remember, that you can hear about these kind of offers if you subscribe to the Taco Del Mar mailing list.