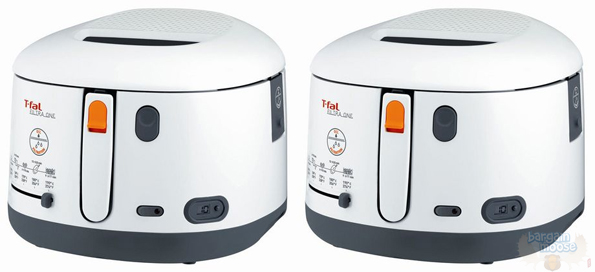 Need some more appliances to fill up your kitchen cupboards? If you're in the market for a deep fat fryer, there's a very good price today from Walmart Canada on this T-fal Filtra ONE Deep Fryer. It was $58.77 and it's now down to only $39.88 with free shipping to most locations!
While this item is in stock at Walmart Canada just now, there's no guarantee that this stock will last for long. If you would like to buy this deep fat fryer, I suggest you buy it now and don't wait.
Price Compare!
I did a quick price comparison of the T-fal Filtra ONE Deep Fryer and it leads me to believe that the price on Walmart is excellent. Elsewhere, this very same model is $70 @ Amazon (albeit in the stainless steel finish), $80 @ Home Hardware, $140 @ Canadian Tire (stainless steel too). We previously saw this item drop to $45 in this blog post last year, so $39.88 is an even lower price point now.
Reviews!
The reviews of this particular model on Walmart do seem promising though, with 20 reviewers giving it an average score of 4.5 stars out of 5. The one thing to keep in mind is that this deep fat fryer has a fixed bowl – you cannot take that out when cleaning and changing the oil. It's a drawback, but to be expected in an item at as low a price point as this.
Personally, I can't really say an awful lot about this deep fat fryer as I haven't actually used one in many years, myself. I don't really eat deep fried food unless it's a treat from the take-out. I certainly don't really cook any at home. I find that the smell is part of the issue for me – when deep frying, the oily smell fills the whole house. I have an aunt in Australia who uses a deep fryer, but she actually uses it in her back yard! I thought this was funny… but it means the smell doesn't go through her house.
(Expires: Unknown)