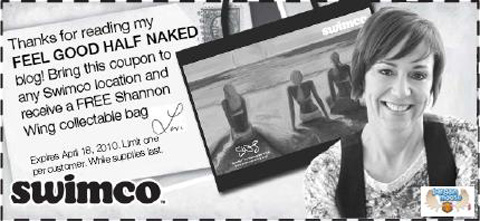 Sign up for Feel Good Half Naked Blog  and get a coupon for a free beach bag.
Lori Bacon is the President and owner of Swimco, a Canadian swimwear company. Sign up for her blog "Feel Good Half Naked," for a coupon to redeem a free Shannon Wing collectible beach bag at Swimco. Enter your email at the top right and a coupon will be waiting for you in your inbox after confirming your email. Offer is good until April 18, 2010 while supplies last. Swimco has 13 stores in Canada, unfortunately for me, all of which of in Alberta and BC.
You can also get this bag free when you spend $150 at Swimco, or purchase it for $2 at the store. The proceeds will go towards LookGoodFeelBetter.