20% off S'well Bottles & Accessories @ Chapters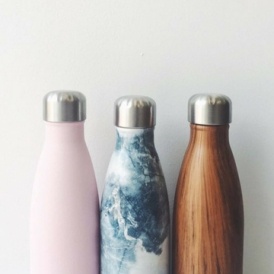 It's always a good morning when I get to say this: S'well bottles are on sale!
All week long (until Aug. 12), S'well water bottles, travelers and accessories are 20% off at Chapters Indigo.
I don't know if there will be another S'well sale quite like this before the kids head back to school – so if you need to get them new water bottles, this is your chance!
The 9 oz bottles – like this S'well Neptune Galaxy Water Bottle – are perfect for little hands. And this sale means you can get one for just $30.40!
Plus, one of my favourite things about S'well is that they sell replacement parts. So if the kids (inevitably) end up losing their water bottle caps, you can just get a new one without buying an entirely new bottle. This S'well Water Bottle Cap, for instance, is on sale for $6.40 (from $8).
As for me, I have my eye on this S'well Moonstone Traveler. It holds 16 oz (and keeps your bevvies hot or cold much longer than other bottles).
Once you have your bottle, remember that they're not intended for use in a microwave, and it's recommended that you hand wash them instead of throwing them in the dishwasher.
Orders over $25 ship free, or you can ship your order to a Chapters store for free.
And if the specific bottle you want is sold out at Chapters, it's worth checking out Well.ca. They have the same 20% off sale happening right now, too!