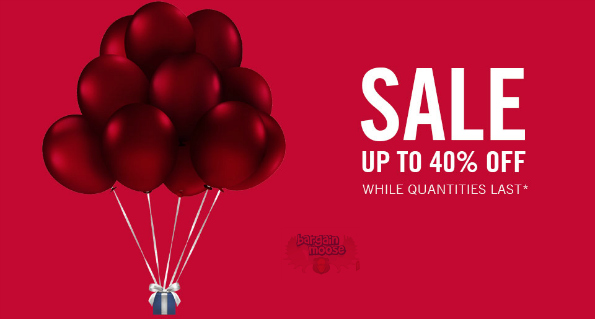 I think this is a first for Canada; Swarovski Canada is having an online sale with up to 40% off their gorgeous sparkly jewellery. Trust me, I am screaming for joy into my computer screen right now.
This is a monumental day for Canadians that love Swarovski, including me! There are plenty of gorgeous necklaces, bracelets, earrings, and more on sale for up to 40% off. Surprisingly, a good selection of them is at the top end of that discount scale. Without further ado, here are some of my favourites.
The Blanche Large Necklace is one of those gorgeous pieces that you want to wear out for special occasion but it really does look gorgeous with anything you wear - it just looks gorgeous on you. Originally $280, the necklace is on sale for $168. I like this necklace because of the vintage-inspired design. On a palladium-plated chain, the centrepiece is made of clear crystal, crystal pearls, and vibrant pink crystal.
For something more modern, try the Bolt Pendant that was $145 and is now $87. Mixing machinery and precious gems, this necklace is really gives off a modern yet glamorous feeling. Choose from three colours.
I like bracelets because they can go with almost anything. They are a simple way to dress up an outfit. Since we no longer wear watched (who does these days?), a bracelet accents the wrist without competition. This Pebble Cuff (M) is currently 40% off. Originally $345, the bracelet is now on sale for $207.
For smaller budgets, the Stone Bracelet is a serious contender. The bracelet is available in three colours. The black colourway is discounted by 40% whereas the other two colours are only 30% off. Originally $99, the black stone bracelet is now $59.
Many of the well-loved Swarovski figures are included in this sale. I am positively drooling over this adorable Hello Kitty Blue Bow that was $170 and is now $102. The Hello Kitty figures are so incredibly cute. The Happy Duck - Sweetheart figurine is also quite affordable because of this sale. Originally $90, the figure is on sale for $54. I dream of the day that someone will have good sense to surprise me with something like this, which i would never expect!
Receive free standard shipping on orders of $120 or more. Orders under that minimum cost $10.95 for shipping. You can also request a free gift bag and a free greeting card in your cart.
(Expiry: Unknown)