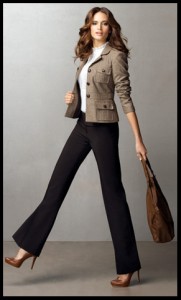 UPDATE - offer now finished!
The clothing deals seem to be coming thick and fast this weekend!! This one is from Suzy Shier Canada. They are giving us shipping for a loonie, as long as we spend $25 or more at their online store. $25 is quite a low minimum spend for this promo, and would be very easy to do!
SuzyShier sells lots of great women's clothing, from sweaters and shirts to shoes and sandals!
Actually, check out their workwear – if you work in an office, I know it can be difficult getting that professional look every day, but you want to be comfy too. Suzy Shier sells a lot of little blazers and vests which are great for this kind of thing.
This offer will end on the 21st of September, 2008.
- Anna