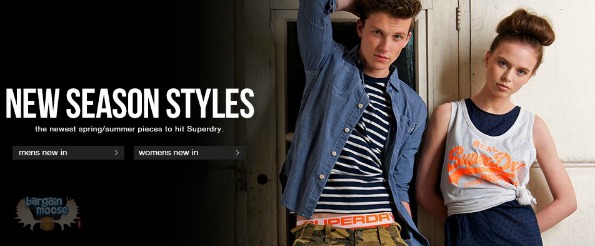 Superdry is now offering free two-day shipping with all customs and taxes paid to Canada on all shipments! They also have set up a Canadian URL (sweet!) where you can shop your little heart out.
The last (and only) time we blogged about Superdry we got an overwhelming response asking about duty charges. Well, according to the email we got here at the Bargainmoose "we've paid all custom fees, including all taxes for our customers in Canada!." So, I hope this helps all the Moosers in the past that loved this company but wanted to buy duty free!
Summer is here (officially!) and it is time to break out the swimwear. I am all for one-piece swimsuits, especially when they don't take themselves so seriously. This Superdry Super Swimsuit costs $80 and though it might be a one-piece, there is practically nothing above the butt in the back except for a couple of very fine straps!
There is a very large selection of men's swim shorts including these Superdry Panel Boardshorts for $69.99. They are available in a variety of colours from sizes small to extra large.
While shopping around I ran into the cutest Superdry 50s Colour Dress for $60. I just love the double layer flared skirt on it - so cute!!! The only thing that I am not so sure about is the complete lack of straps. I don't mind strapless dresses when they stay up, but I like some backup straps just in case. I think that is a problem with larger busts... strapless dresses are often not our friend!
(Expiry: Unknown)