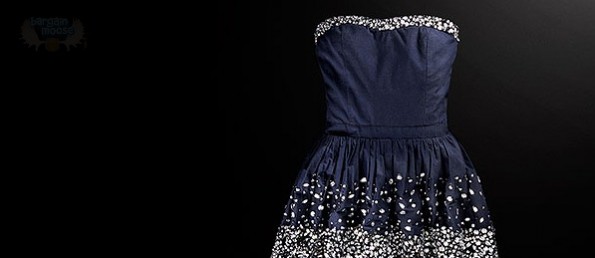 Superdry Canada currently has two fantastic promotions on. Get 50% off dresses right now and receive 30% off everything else! You will also receive free express shipping on your entire order.
The best deal is on the dresses so let us start with that one first. For a festive winter dress, choose the Prism Lace Bodycon Dress with long sleeves to keep your arms cozy. Pair this bodycon dress with a pair of sparkly tights and killer heels to complete your Christmas party wardrobe. Originally $80, it is now on sale for $40.
Looking for the ultimate glitz and glamour and don't mind a few shivers? This 50s Premium Jewel Dresswas $230 and is now $115. Both the bust line and the skirt are richly embellished with beads. Sizes range from XXS to L though their conversion to numbered sizes uses the UK system. US sizes are generally 4 below UK. Thus, a UK size 14 us a US size 10.
My favourite dress is theBrushed Odessa Dressbecause of all that beautiful lace. The dress comes in grey, navy, or off white. Originally $100, the dress is now $50. I like it in grey with the pink trim best.
Everything else on their website is 30% off including outwear and jackets, which are often excluded from promotions. This Arctic Windcheaterfor women was $140 and is now $98 in a variety of colours. If you live in Eastern Canada and are being buried under a load of snow currently, then you might want something a bit more substantial. The Everest Duffle Coat that was $260 and is now $182 looks very warm.
Men need warm coats too. I picked out the reasonably priced Polar Sports Puffer that was $150 and is now $105. The jacket features full fleece lining, a zip front fastening, bungee-cord hood, two side pockets, single inside pocket, ribbed hem and ribbed cuffs with thumbholes. Three different colours are available.
I have yet to try Superdry but I really like what I see so far. They make some nice items that look good quality. In addition, your order comes duty paid with free express shipping! There is no need to worry about extra charges.
(Expiry: unknown)