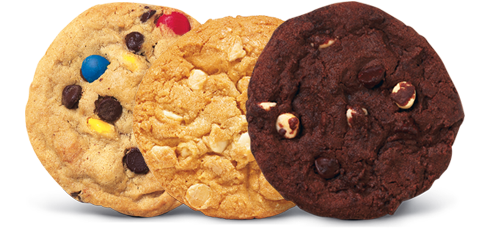 C is for cookie, that's good enough for me! What about free cookies though? This Friday, December 4th you can head into your local Subway Canada restaurant for National Cookie day and enjoy a free cookie at participating restaurants Canada wide.
Subway has delicious cookie. Out of all the restaurants that offer cookies, Subway has to have my favourites. Have you and your kiddos tried their M&M Cookies? You should. Now you can head on over and try one for free this Friday. So why not?
Subway Canada offers free cookies on National Cookie Day every year. You are limited to one cookie per person, while supplies last. It is rare that they run out of cookies though. They have a few different types of cookies like chocolate chip, oatmeal raisin, M&M, white chocolate chip macadamia nut, triple chocolate and more. Their cookies are always deliciously soft for some reason. I am drooling even thinking about it.
With offers like this from Subway, I try to combine it with the Sub of the Day to make the trip worth it. Friday is the Tuna sub, which isn't particularly my favourite. The sub of the day is $4 for a 6 inch and $6 for a footlong, so that is quite a bargain. My favourite sub has to be the Sweet Onion Chicken Teriyaki which is Wednesday's sub of the day. Why can't international cookie day fall on a Wednesday?!
Either way, free cookies is nothing to complain about. I am going to incorporate my trip to Subway into my morning walk on Friday. My son loves the M&M cookies so I will get a free cookie for him and buy one for myself too, just because they are so tasty.
(Expiry: 4th December 2015)