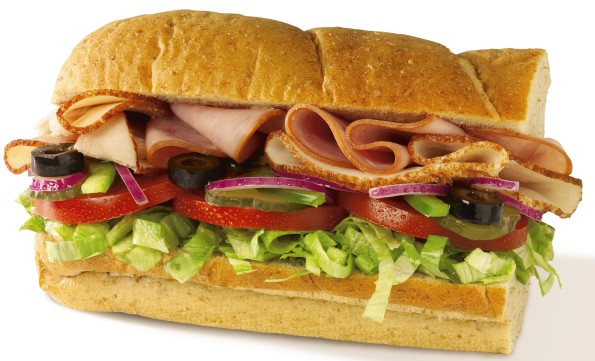 Here's a solution to two of your problems! A last minute Christmas gift, and a last minute meal idea. If you know someone that loves Subway, then you should take advantage of this Subway offer. For a limited time, you can get any 6 inch sub for free when you load a $25 gift card at your local Subway restaurant. This is an in-store offer only.
I noticed that they had this offer around Christmas time last year as well, so I am not sure if this is a deal that just comes around for the Holiday gift-giving season or if it is around all the time. Subway is a place I dine at least monthly, so I may even just buy the $25 gift card myself. So either way this is a great little freebie for something you may have been purchasing anyway.
To reap the best benefits, use the $25 gift card to purchase the Subway Sub of the Day when you do dine at Subway. Each day they have subs for a great price. You can get a select footlong for $6 or a 6-inch sub for just $4.
Here are the Subway Sub of the Day deals:
Monday – Steak & Cheese
Tuesday – Subway Melt
Wednesday – Sweet Onion Chicken Teriyaki
Thursday – Turkey Breast
Friday – Tuna
Saturday – Subway Club
Sunday – Onion Roasted Chicken Breast
You may also be interested in their Star Wars cups! You will get a free collectible Star Wars cup with your purchase of a 21 oz fountain drink, which will cost you just around $1.60. There are six different cups to collect, and if you use this gift card every time then you will be double discounting almost.
I love gift card offers like this, especially around this time of the year. I bet you know someone on your Christmas list that loves to eat at Subway, so now you can give them a gift they will love and you will get a free meal out of it. Count me in!
(Expiry: Unknown)