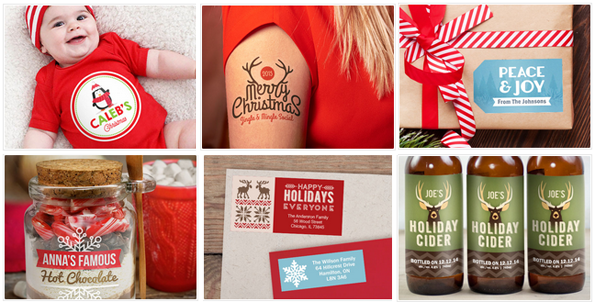 StickerYou is a Canadian store which specializes in stickers and labels and we've mentioned them here on Bargainmoose a few times. This weekend, for Black Friday, they are offering FREE SHIPPING on all orders which is quite a rarity from them. I thought I would give it a mention as they actually have a lovely range of customizable Christmas holiday stickers and other items.
Click here to use the Sticker You coupon code online now
CouponCode: FSBF
Discount: Free shipping
Expires: 30th November 2015
You can check out the customizable Christmas items here – some are lovely. You can see some examples in the image above, of the type of stickers that you can make with the tools on Stickeryou.
Now, as you are making and customizing these items yourself and Stickeryou does the printing and shipping, you can really get creative in what you are making. Some of the images above spark my imagination – last year, I made a batch of shortbread just before Christmas. I packaged it up and give it out to family as a gift, but I felt that the wrapping wasn't as pretty as it could have been. With the likes of the customized stickers above, I could have made them even more stunning.
I quite like the idea of the wine labels which you can see here. I think we all know a few people who are wine drinkers – so getting a lovely bottle of wine and customizing it with a personal sticker, is a lovely idea for a unique Christmas gift for someone who has everything. Those are only $9.99 for a page, and you can fit either 4 or 6 labels on a page.
This year, I've got Christmas all planned out – I've already purchased gift wrap, tissue paper, gift bags and present labels. I actually had some custom present labels made on MOO.com, and I am going to be using those on all my presents this year. You could do the same with the party favour labels here on Stickeryou.
What about you? Do you plan on making any custom labels here on Stickeryou?