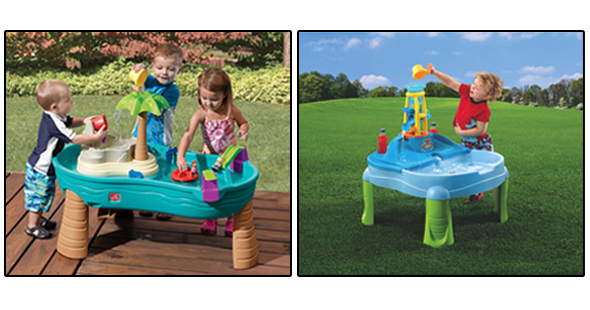 I'm sorry for throwing all these fair-weather toys at you, making you long for warm, sunny days and grass instead of snow... But what a great time to take advantage of the off-season savings! I've come across two great deals at the Sears.ca Boxing Week sale that ends tonight. Better late than never, right?
The Step 2 Splish Splash Seas Water Table is on sale at Sears for 40% off the regular $114.99 price tag at $68.99. Combine that with the coupon code Avigayil wrote about earlier today and pay just $58.99! This is a total savings of nearly 49%. Now, normally orders over $49 ship free from Sears.ca but be warned: I went through checkout and was charged almost $70 dollars for shipping so this will definitely be an item you'll want to pick up at your local Sears store. Be sure to select that option to avoid astronomical shipping charges and negating all your savings!
The Step 2 Splash & Scoop Bay is marked down 30%, from $69.99 to $48.99. Now, this on its own is not eligible for the $10 off coupon as it's not over $50 but pop another small item in your cart and you'll be able to use the coupon code to save that extra $10! I was also pleasantly surprised to see that there was no charge for shipping for the toy alone. I guess Sears is being generous with that $49 shipping threshold!
Coupon Code: 941612528
Discount: $10 off $50
Expiry: Unknown
Step 2 Splish Splash Seas Water Table
This table will make for hours of splish splashing fun for one child but it's also the ideal size for multiple kids to play together (it's recommended they're over 1.5 years of age). Little ones can send the included play figures down the slide or off the diving board and spin the water wheel carousel. The hinged dump bucket fills up the waterfall. A 10-piece accessory set is included for imaginative play!
I was unable to find the Step 2 Splish Splash Seas Water Table at any other Canadian retailers aside from Amazon.ca who is selling it for the low, bargain price of $501.19! Or get it at Sears tonight for approximately 88% less at $58.99. Don't forget to enter code 941612528 at checkout to save!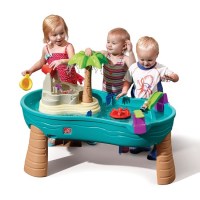 Step 2 Splash & Scoop Bay
This fun table holds water and sand for loads of summertime fun! Kids aged 2 and up can play with sand, water or both at the same play centre that produces a waterfall when pieces are combined. It has a cover that fits either side if one is not in use (in an effort to keep that sand from becoming mud, no doubt!) and includes a water tower with slide, spinner and removable cup and shark scoop.
I found the Step 2 Splash & Scoop Bay for sale at a few other online retailers. Amazon.ca also has it for $48.99 but there aren't many left in stock. Best Buy has it on sale for $69.99; Canadian Tire for $89.99. Get it at Sears.ca tonight for $48.99 and no additional shipping charges.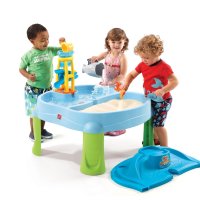 Grab one of these great toys before the stroke of midnight, in anticipation of the warmer months in store for 2016. Happy New Year, Moosers!
(Expires: 31 December 2015)