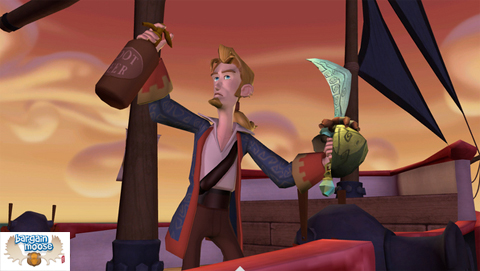 Right now, Steampowered.com is offering the Tales of Monkey Island Complete Pack for only $4.99us! You can buy online, and download it right there and then - it includes episodes one to five.
You can download each episode separately, so it's not a huge download if you were worried about that.
I bought The  Tales of Monkey Island Complete Pack a few weeks ago, and I've been having a go at it. I've only completed episode one so far, but I really enjoyed it, even though there was no insult sword-fighting!
I love guybrush though. I have always wondered if there was a Tales of Monkey Island movie, who would play Guybrush and Elaine? I'd like to put Nathon Fillion in as the world's mightiest pirate, and perhaps someone like Angelina Jolie as Elaine. What do you think?