Starbucks Canada: BOGO Free Holiday Drinks Nov 17-20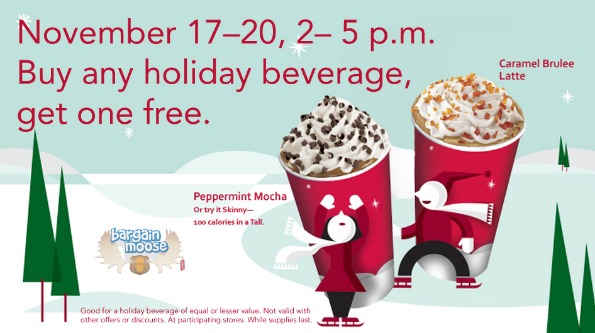 Stop by Starbucks from 17th-20th November, 2011 and grab a deal on the new Holiday Drinks from 2-5 pm. It's a buy one, get one free sale!
If you haven't tried the Holiday drinks yet, you can choose from the Peppermint Mocha, Caramel Brulee Latte, Gingerbread Latte and Eggnog Latte.
I've tried the Skinny version of the Peppermint Mocha.
it's a lighter version of the traditional Peppermint Mocha. A perfect treat with 100 calories in a Tall. A combination of espresso, steamed nonfat milk, skinny mocha sauce and sugar-free peppermint flavoured syrup.
It was pretty good, although I didn't really like the taste of the sugar free syrup. Next time I think I'd ask for it to be half sweet instead.