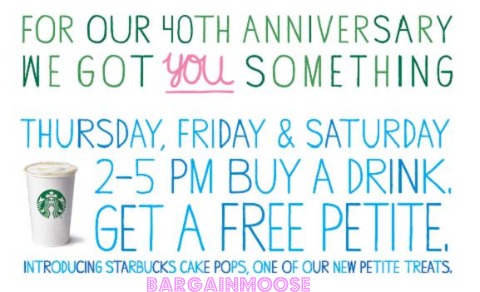 Happy 40th Anniversary Starbucks! In honour of this occasion, Starbucks is rolling out some new products and unveiling a new logo on 8 March 2011. But the real celebration starts on10-12 March from 2-5 pm local time, where you can stop by your local Starbucks and enjoy a free Starbucks Petites treat with the purchase of a beverage at participating stores in U.S. and Canada.
Some of the new items you can look forward to at Starbucks include:
Cocoa Cappuccino, a blend of espresso, bittersweet mocha sauce, steamed milk and foam, topped with mocha drizzle.
Starbucks Tribute Blend Coffee, a blend of four different coffee beans including Aged Sumatra, Sun-dried Ethiopian coffee, and coffees from Papua New Guinea and Colombia. This blend is also available as Starbucks VIA Ready Brew.
Starbucks Petites, bite sized treats that are just the right size for enjoying alongside your afternoon coffee! Flavours include: Cake Pops (Birthday Cake, Rocky Road and Tiramisu flavors), Red Velvet Whoopie Pies, Mini Cupcakes (Carrot Cake and Peanut Butter) and Sweet Squares (Lemon and Salty Caramel). Can someone say YUM?
I'll definitely be stopping by to try out the Cocoa Cappuccino and one of the Cake Pops!