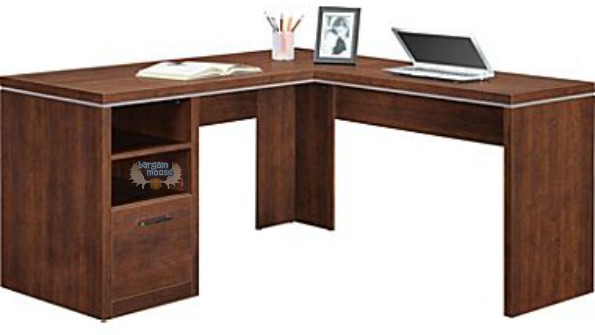 In the market for a great deal on a new desk? Staples has a fantastic deal going on with $145 off the Whalen Legeant L-shaped desk in cherry. It was originally $289, now $149.99. This item will also ship for free.
This has everything you need in a desk, from reversible legs for use in a corner or in the middle of a room, to compartments and drawers for files and storage. Made of high-quality engineered wood, it has a really nice cherry finish. I would really love an L-shaped desk as the desk I have now doesn't give me enough room for all my stuff. I use a laptop and desktop simultaneously and having that L-shape would help out quite a bit.
There are 40 reviews on this desk, with a four star rating. The pros include an attractive design and being comfortable, and a con is that it is difficult to assemble. But, people have rated it as easy to assemble as a pro, so as with any review, take them with a grain of salt.
This desk is on sale because Staples is having their Spring Furniture event with up to 50% off, so if you don't like this desk too much, there are many others (among other furniture) to choose from.
(Expiry: Unknown)