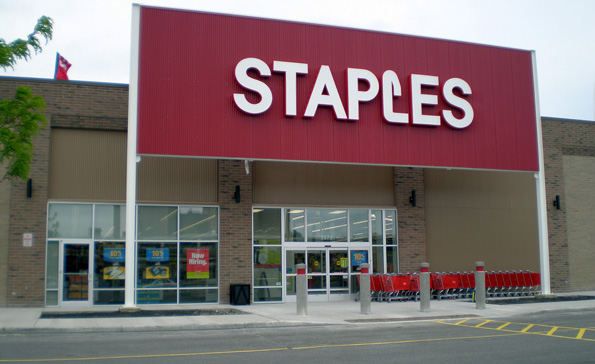 Starting March 25th 2014, you can present a different Staples printable coupon in-stores to save up to $75 on items like camcorders, cameras, hard drives, monitors, tablets, laptops and desktop computers.
Valid for only one day each, here are the different deals you can take advantage of with the Staples coupon:
Tuesday, March 25th 2014: $25 off any camera or camcorder $99+
Wednesday, March 26th 2014: $30 off any hard drive $100+
Thursday, March 27th 2014: $50 off any computer monitor $149+
Friday, March 28th 2014: $50 off any tablet $299+
Saturday, March 29th 2014: $75 off any laptop or desktop computer $599+
As I'm due to give birth soon, I have been planning to add a whole bunch of feel-good movies onto a hard drive to potentially distract myself and hubby with at the hospital. Whether we'll actually get to watch them is something I'll have to update you moosers on later, but in the meantime that's the plan, with the only problem being that I'm in need of a new external hard drive. So I'll probably be using the Wednesday coupon to save $30 on the Western Digital 4TB USB 3.0 My Book external hard drive priced at $189.99. Although it's $171.24 at both Best Buy and Future Shop, with the coupon, it comes down to just $159.99 at Staples.
In any case, there is definitely no shortage of stock to choose from; just make sure to carefully price compare with all of the other major stores first!
(Expiry: 29th March 2014)
(Image Credit: Jim Chambers)