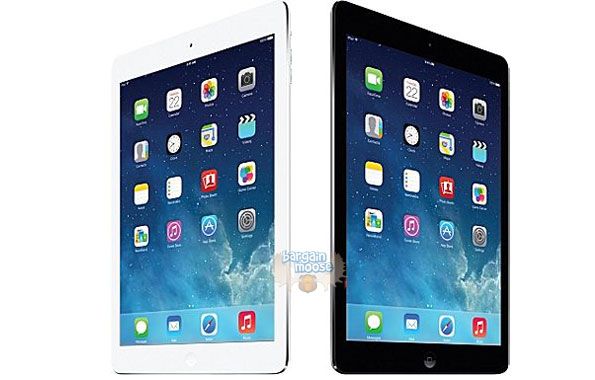 Have you been eyeing the iPad Air? Then I definitely suggest you get it at Staples since for a couple of days only, you can get a $40 gift card at the same time!
Admittedly, this deal is particularly well suited for either frequent shoppers of Staples or those who can see themselves buying something from there in the near future. The reason for this is because if we look at the 16GB iPad Air, Staples has it in either silver or space grey for $519, while both Best Buy and Future Shop actually have this awesome gadget for close to $20 cheaper ($501.64) but if you see yourself shopping at Staples for anything at all, then you're actually saving an additional $20 in either the short or long run.
As for specs, this awesome tablet has a 9.7" screen, a dual-core A7 chip with an M7 processor and a 2048 x 1536 screen resolution. On top of the 16GB for $519, which I already mentioned earlier, Staples also has the 32GB for $619, the 64GB for $719 and the 128GB for $819.
Although I already have a tablet, if I were getting the iPad Air, then I would totally use the gift card to invest in the Zagg invisibleSHIELd screen protector, which is just $29.45. I had a similar one on my iPhone and it actually lasted me close to a year without peeling. The only reason I had to get a new one was because of the accumulated dirt but that's a whole 'nother story!
You also won't have to worry about any shipping costs as both of these iPads ship for free.
(Expiry: 3rd March 2014)