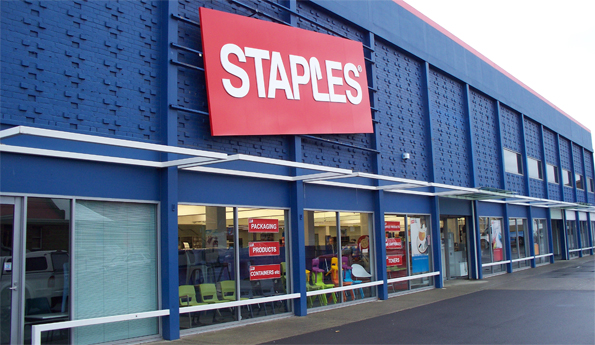 Here on the Bargainmoose blog, we have to decide what to write about on a daily basis. All deals have to be judged by a number of factors including past deals from the company, competitors offerings, price comparisons and other factors like this. It's not often we would simply blog a 10% coupon just for the sake of it, but I am deciding to do so in this case for the Staples customer appreciation weekend. With this printable coupon, you can get a 10% discount off most items in-store!
Exclusions in brief: Saturday doorcrashers, postage stamps, computer rentals, copying, gift cards, activity packages, phone cards, Bose items or previous purchases. Excludes Quebec.
For the above coupon, it's likely that you have to print it out and take it to the store with you rather than just showing it on your smartphone. The coupon on it is one of the generic 5 digit staples coupons, so it's usable by anyone (it's only the 16 digit Staples coupons that are one-time use only).
So as I said, while a simple 10% coupon doesn't sound super-hot in and of itself, it can actually be used to your advantage. It's not very often that Staples offer a percentage coupon discount which can be used by anyone on almost any item in-store.
One of the hot items that you can use this printable coupon on is the iPad Air 2. If you've been holding out on a good price on this item, now is a good time to go in-store and get one. The basic model of the iPad Air 2 is $549 from the Apple Store online. With the above coupon for Staples, you can get the iPad Air 2 for only $494. It's rare that you can ever get Apple products at a discount, so this is definitely worth a mention!
This coupon is a real boon if there are some big-ticket items you've been meaning to buy. Before you head out to the store though, do your price comparisons online to make sure you're getting the best possible deal.
(Expires: 2nd May 2015)