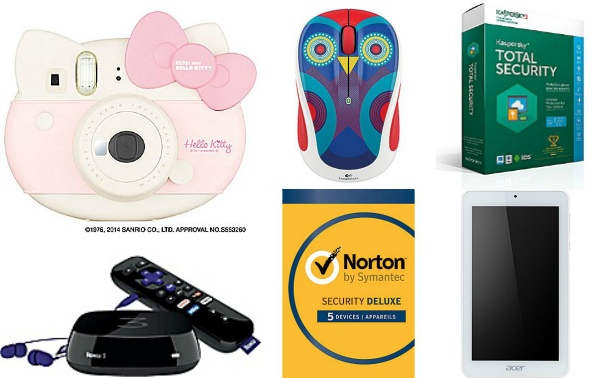 Staples Canada started most of their Boxing Day sales this morning @ 3AM blog time. I was cozy in my bed at that time but I totally need to fill you in on some of their amazing deals. They are one of the hottest places to buy tech, software, and more.
Not all the sales have started, but I wanted to highlight some of the ones that are already live. For example, this Acer Iconia B1 Tablet (NT.LBKAA.001), 7", Quad Core, 1GB RAM, 16GB Storage, Android 5.0, English is on sale from $119.96 down to $89.96. It is a good buy for a basic tablet that would suit you or your kids quite well. This is one of Staples Canada's 'hot buy' tech items for Boxing Day.
For me, you always wait until Boxing Day to buy anti-virus software because the discounts are awesome. Get computer security for the entire family with these multi-license security packages. First, check out the Norton Security Deluxe, Up to 5 Devices on sale from $79.96 down to $19.96. That is $60 off the original price and you can use it to secure up to five devices in your household.
The second software package I want to mention is the Kaspersky Total Security, 1 Year Subscription, 3 Users that was $89.96 and is on sale for $20.
I am nuts over this Logitech M325 Wireless Optical Mouse, Olivia Owlon sale from $39.93 down to $14.93. I like this mouse because it is so colourful and actually has the face of an owl. You can also get this mouse in plain blue.
There are so many other fantastic deals. This Swingline Fashion Leopard Print Half-Strip Stapler, 20-Sheet Capacitywas $9.99 and is now $2. TheMead® Classic Print Journal with Bungee, 7-1/4" x 5-1/8", Assorted Cover Designs, 160 Pages was $5.94 and is now $1.96.
For those of you who do not want your office software to be subscription based, you can pick up the Microsoft Office Home and Student 2016 for Windows for the same price as a one-year subscription now. Originally $149, the software package is now only $99.
The cutest camera ever is now on sale. The Fujifilm Instax Mini Camera, Hello Kittywas $120 and is now on sale for $69.99. I am sure that this camera is designed for kids, but some adults might really like it too - like me.
This BlueDiamond Premium HDMI Cable with Ethernet, 6'was $49.99 and is now $8.99. What a great discount on this cable as well!
Some deals have not yet started - like there is supposed to be 50% off all Laser Pegs but that isn't live yet. Perhaps they are reserving that one for Boxing Day itself.
(Expiry: Unknown)