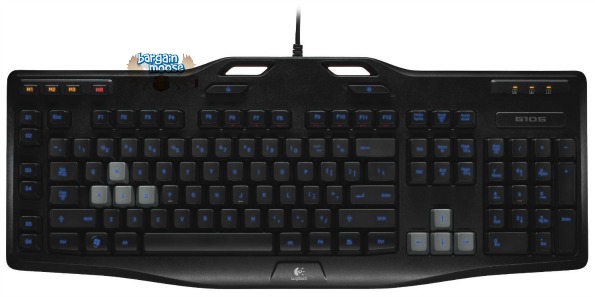 Staples Canada is offering 50% off this Logitech G105 Gaming Keyboard. Originally $69.99, the keyboard is now on sale for $34.99. You can get free shipping to store on any order or else the free shipping minimum is $45.
I price compared this keyboard with many other stores. Here is what other retailers are currently selling the Logitech G105 Gaming Keyboard for:
$54.99 + $9.99 shipping @ Newegg.ca
$69.99 @ Best Buy Canada
$64.99 @ Future Shop Canada
$54.99 @ NCIX.com
Amazon only had the keyboard from a secondary seller, and it was pretty much full price as well (once you calculated in shipping).
This keyboard is customized for gamers. The LED backlighting is built to last as long as the keyboard. There are two different levels of keyboard brightness as well. On the keyboard, there are six programmable G-keys with three modes capable of 18 unique macro combinations. Multi-key input is supported and there is also a game mode switch. Setup is simple.
As a gamer, quality is pretty important in a keyboard. Logitech backs up their keyboard with a three-year manufacturer's warranty. When most items only come with one-year warranties, this is a good offer. Gamers love this keyboard, but non-gamers also like it. Here is what one regular computer user had to say:
The feel of this keyboard is great. It gives the right amount of feedback for typing. I also like the macro keys that can be set to whatever you like and the lighting up of the keys is good. This keyboard is sold as a gaming keyboard, but I am not a gamer and I still like this keyboard. So don't ignore this keyboard just because you are not a gamer.
All five reviews on Staples Canada give this keyboard a perfect 5/5 star rating. It seems to be a impressive little unit that performs well and really holds up well. The only minor criticisms I see are on layout. A few gamers do not like the location of a few buttons. However, they have all sucked it up and got used to the format. For the price of this unit, I do not think you can go wrong.
As I mentioned above, it will cost you to ship unless you reach that $45 minimum or you choose to get your unit shipped to store. Right now, my local store has six in stock so pickup should be no problem for me.
(Expiry: 17th February 2015)