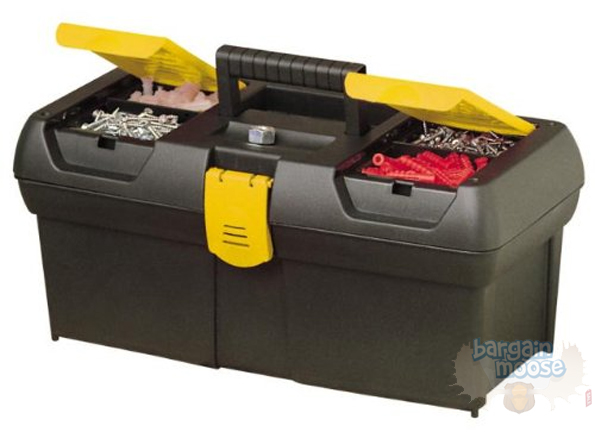 Does your hammer need a home? Are your screws needing stored? Do your bits need a box? If so, check out the deal on this 12.5" Stanley STST13011 Toolbox on offer @ Amazon.ca just now. Originally priced at $15.99, you can grab this handy little toolbox for only $4.99!
If you don't have the Amazon Prime delivery service, you'd have to make your order up to $25 to get free super saver shipping on this Stanley toolbox, as it is only an "add-on item." But I know many Moosers probably already have Amazon Prime, meaning that you can just order the above without having to order anything else, and get free shipping to your home. Shipping is a little slow though, you'll have to wait three to five weeks for this item from Amazon.
The Stanley toolbox has two organisers on the top for small parts storage, to house things like your screw anchors and nails. It's also got a little tote tray inside which is very useful if you're doing some DIY and you're carrying a few tools and accessories round with you.
The reviewers on Amazon are pretty happy with this toolbox, with a few comments about it being a good toolbox for basic home use, but not likely up to the job of being out on a construction site. Makes sense!
I googled for some price comparisons on this item and I actually spotted the very same toolbox at the same price on Lowes here. However, you'd have to spend $49 or more to get it shipped for free there. If you're buying the toolbox on its own from Lowes, shipping would cost an extra $6.49 in ON for example, more than the cost of the item itself! You do have the option to collect it in-store at Lowes though, if you are so inclined.
My partner has a toolbox almost identical to this one, except I think it's a larger model. I find that the top storage organisers are incredibly handy. There are lots of little accessories in there which are close to hand when needed for a DIY job round the home; screws, nails, hooks, etc.
(Expiry: Unknown)